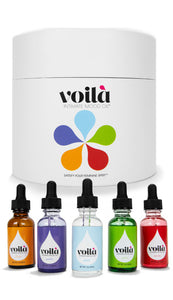 Voilà Intimate Mood Oil
MOOD OILS 5 PACK
Regular price
$145.00
$0.00
Not sure what you are in mood for? Buy the 5 pack! This bundle comes with one bottle of all 5 mood oils including Excite, Soothe, Pure, Flash and Calm Mood Oils.
---
Warnings: Avoid if you have any sensitivities or allergies to any of the ingredients. Do not use if trying to conceive as it may impede sperm motility. May decrease the integrity of a condom.
Disclaimer: These statements have not been evaluated by the Food and Drug Administration. This product is not intended to diagnose, treat, cure or prevent any disease.
All sales are final.
---