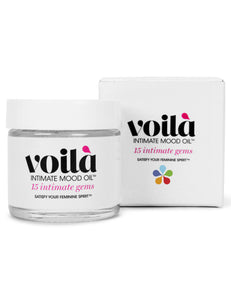 Voilà Intimate Mood Oil
INTIMATE GEMS
Regular price
$32.00
$0.00
TEMPORARILY OUT OF STOCK
Description: Package of 15 small dissolvable oil-filled capsules that can enhance a woman's intimacy.
Directions: Insert one gem inside the vagina a few minutes prior to sex. Gems will melt in response to your body temperature and act as an intimate lubricant. Can also be used as a vaginal moisturizer for feminine health.
Ingredients: Organic non-hormonal first-press coconut oil in a plant-based capsule.
---
Warnings: Avoid if you have any sensitivities or allergies to any of the ingredients. Do not use if trying to conceive as it may impede sperm motility. May decrease the integrity of a condom.
Disclaimer: These statements have not been evaluated by the Food and Drug Administration. This product is not intended to diagnose, treat, cure or prevent any disease.
All sales are final.
---